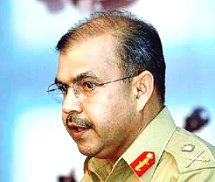 Another
22 dead in Waziristan
missle attack
but of course
ISPR
says the place just blew up and we should believe 'em, right Mr. Shaukat Sultan? Seems you left ISPR in good hands...Maj Gen Arshad Waheed is cut from the same cloth.
On edit:
Make that atleast 32 dead
. So now US is threatening Pakistanis with chemical weapons? ISPR still claiming it was a self-inflicted wound and most dead were Uzbeks. Shameless bastards!
Eyewitnesses:
The villagers reported seeing a drone that had flown from Afghanistan
around 10 a.m. on Tuesday firing two missiles at the seminary and flattening its
structure.
ISPR version:
Major-General Waheed Arshad, who is also Director-General of the
Inter-Services Public Relations (ISPR), claimed that several casualties occurred
when bombs being made by militants accidentally exploded. He said the place
where the explosions took place was a training facility.
Now who do you believe?